This year I set myself two reading challenges. The first was a list of specific books, mainly fantasy, which you can view here on Goodreads: 2018 Reading Challenge. The list consists of 57 books. In my last update at the end of July, I had read 15 of them. I have now completed another 10, bringing my total to 25. Challenge 44% complete. Not a great showing. I will be adding the remaining books to next years challenge.
I also set myself a Goodreads challenge of 30 books, which I exceeded. During the year, I read a total of 58 books, so 25 challenge books and 33 non-challenge books. I purposely set a low Goodreads goal in order to stop myself avoiding some of the longer books on my list!
My favourite books of the year were (in no particular order):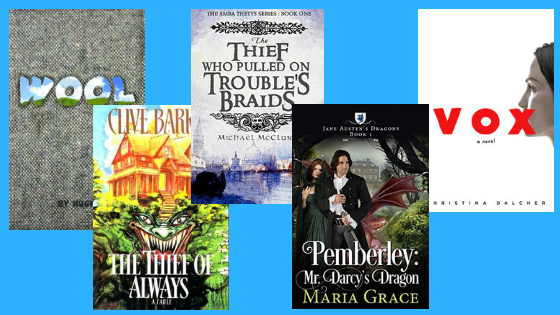 Wool and Vox are both dystopians. Pemberley: Mr Darcy's Dragon is a fun series based on the premise of Pride and Prejudice with dragons. The Thief who Pulled on Trouble's Braids is a past winner of SPFBO, an indie fantasy book competition, and The Thief of Always is a great children's read.
Finally, here are some brief reviews of the challenge books I read since my last update:
The Old Man and the Sea – Ernest Hemingway.Very dull, DNF. I was warned I might do better to switch it out, so I wasn't surprised. I didn't even think it was particularly well-written which did surprise me, because people always say how wonderful Hemingway's writing is.
The Book of Dust – Philip Pullman. Mediocre – which was disappointing. Read very much like a prologue stretched out into a novel. I supposed that's the risk you run when trying to follow up an awesome series though.
Harry Potter and the Cursed Child – John Tiffany. Another disappointment. It was passable, but definitely read like bad fan fiction in places.

Shift & Dust – Hugh Howey. The sequels to Wool. I enjoyed these a lot, although not as much as the first book. I think it's hard to write a good dystopian trilogy because later books lack the impact and wow moments. In the last book, the premise started to fall apart when it's more closely examined, and certain things were left open-ended which annoyed me.
Words of Radiance & Oathbringer – Brandon Sanderson (Stormlight Archives #2 & #3). Epic sequels. Very enjoyable. Together I think they clock up nearly 2,500 pages so not for the fainthearted. I'd definitely recommend the Stormlight series but only for epic fantasy fans.

Assassins Apprentice – Robin Hobb. A solid fantasy read, but lacked pace and plot focus – typical for novels of its time. Enjoyable.
Senlin Ascends – Josiah Bancroft. Another SPFBO winner. Although it screamed steampunk to me, which is more sci-fi than fantasy. Unique premise, and worth a read.

The Aeonians – JE Klimov. A fun young adult fantasy read with a diverse cast of characters and races.
So, that's the year's reading round up done. Stay tuned for a post with my 2019 reading challenge.