Dream Eater's Carnival (Bitlather Chronicles)
by Leslie Anderson & David T. Allen 
Desperate for adve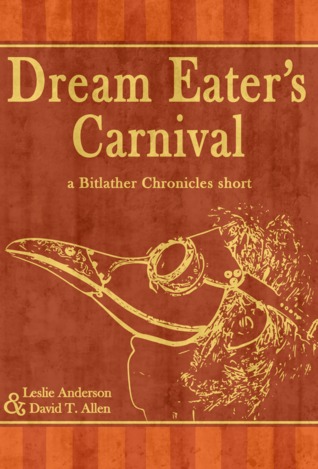 nture, the headstrong Leisl abandons her sterile cathedral life for a mysterious traveling carnival. Surrounded by vibrant energy and eccentric performers, she finds a sense of belonging.
Although she embraces her new life, Leisl is unable to shake a strange sense of unease. There is more to the reclusive carnival owner than meets the eye. Soon she learns that his fantastic performances are not all illusion. There is dark, terrible magic at work.
If Leisl isn't careful, falling from the tightrope may be the least of her problems.
**********
A light fantasy novella, set in a world with magic, intrigue and a touch of steampunk. Leisl is an immediately engaging character, who drags you into her need for more excitement. Her new life in the carnival is seen vividly through her eyes as she learns to help with the various acts. But more than this, we feel that by running away, Leisl has finally found a sense of home.
When her own secrets come to light, it turns out her life is in danger, leading to quick action needing to be taken.
The carnival cast are an engaging mixture, involving strong men, evil monkeys, bearded ladies with a penchant for tea, businessmen and those with evil intent.
The story arc is straight-forward and told mainly from Leisl's point of view. As this is a novella, situations that I would have liked to know more about passed all too quickly. At the end of the story we are promised more in future books, and it's clear that this book is a teaser for the series that is to come.
An intriguing mix of magic is used in the book: amber to generate electricity, tarot cards, theatre tricks, dark magic and threats of abominations. It's implied that religious life also plays a part in this community with reference to monks in cathedrals undertaking research and protecting the people.
I definitely feel drawn to Leisl, a strong character with a sad background, who wants to be with those she calls family. I look forward to the next book in this series, in the hope that Leisl will pop up again.
I rated this book 4 stars on Goodreads.