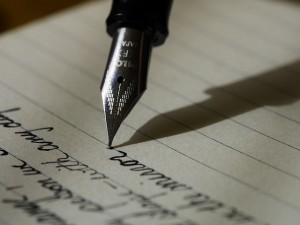 I've been spending this year editing my novel. Again. So far, I've been writing and re-writing my novel for 18 months. Currently, I'm on the fourth major rewrite, which should be the last. By the time I reach the two year mark in September, I should be almost there.
Of that 18 months, I spent the first six months writing the first draft, and since then I've been getting critiques on my work, and learning how to write. And by learning how to write, I mean learning to write words so that it sounds like a real novel that a writer wrote. One with realistic dialogue, meaningful characters, places you can visualise and a plot you want to read more of. Am I there yet? I'm getting there, and it's the kind of thing one can always improve at.
Editing is hard work. You give your friends beautiful novel chapters, and they come back to you with questions and scrawls and notes. (I do this using Scribophile). When they've been through the entire novel, you have a messy pile of annotated chapters, notes from messages and forum threads, and a million ideas bouncing around in your head.
It feels like an enormous jigsaw. You know that if you can just get the pieces in the right order, an amazing picture will jump out at you, but there's a lot of work before you get there.
So, how to deal with that? I tend to fall back on spreadsheets. I have a large spreadsheet with a row for every chapter, and various columns for different types of notes and changes. I then have an individual Word document for every chapter.
I go through all my notes and critiques, writing down all the big picture changes on the spreadsheet, and annotating each Word chapter with the small scale stuff.  When I have all my notes in coherent form, I go through the Word document and make changes accordingly. Voila, a new chapter to replace the old, which I then copy onto a master document.
It can feel like a really intimidating task when you have a huge novel. I find the best way to deal with that is to think only about the current chapter. One chapter at a time. Slowly but surely, you make your way through the pile. And once in a while, allow yourself to think how good you'll feel when you reach the end!
Until … you hand it out for more feedback … and the whole thing starts again …