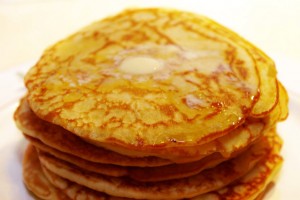 I used to have a food blog. Sometimes, I would discuss the origin of different ingredients or learn the difference between certain types of similar ingredients. The other day, I found myself wondering what the difference between crepes and pancakes is, if there is a difference at all. And as this is a writing blog, not a food blog, I thought I would look at the origins of the words as well. I might turn this into a series where I look at the origins and usage of various words. I love learning new words and expanding my vocabulary, and this seemed as good a place as any to start.
Pancakes
A pancake is a flat, thin cake of fried batter. Batter is made by mixing flour, milk and eggs together. Pancakes are served with a variety of sweet and savoury toppings. Here in the UK, we traditionally eat pancakes on Shrove Tuesday (known colloquially as Pancake Day), which is the beginning of the festival of Lent. The origin of pancakes on Shrove Tuesday was to use up all the ingredients in the fridge prior to Lent. These days, the traditional topping is sugar and lemon juice. They are a common breakfast food in America, and are often thick and fluffy, served with maple syrup.
Pancakes appear to have been around since ancient times, with references back to Greek and Roman times. Pancakes were easy to make when no oven was available because they could be cooked on a hot stone or griddle. The name presumably comes from the fact they are cakes that can be cooked in a pan.
Crepes
Crepes are a very specific type of pancake, common in France and other parts of Europe. They are large, very thin, and sometimes crispy. The word 'crepe' is derived from the Latin word crispa, which means 'curled'.
A pancake can come in more shapes and sizes than a crepe, in particular they can be smaller and thicker. Raising agents are sometimes used in pancakes but not in crepes. Crepes are generally made with wheat flour or buckwheat flour. Despite the differences, the terms crepe and pancake appear to be interchangeable a lot of the time.
When I visited Paris for the first time last year, every street corner seemed to have a crepe stall. Crepes were made fresh, and then covered in Nutella, with additional toppings of banana, coconut, or whipped cream. The irresistible smell always seemed to be wafting towards me. Scrummy!