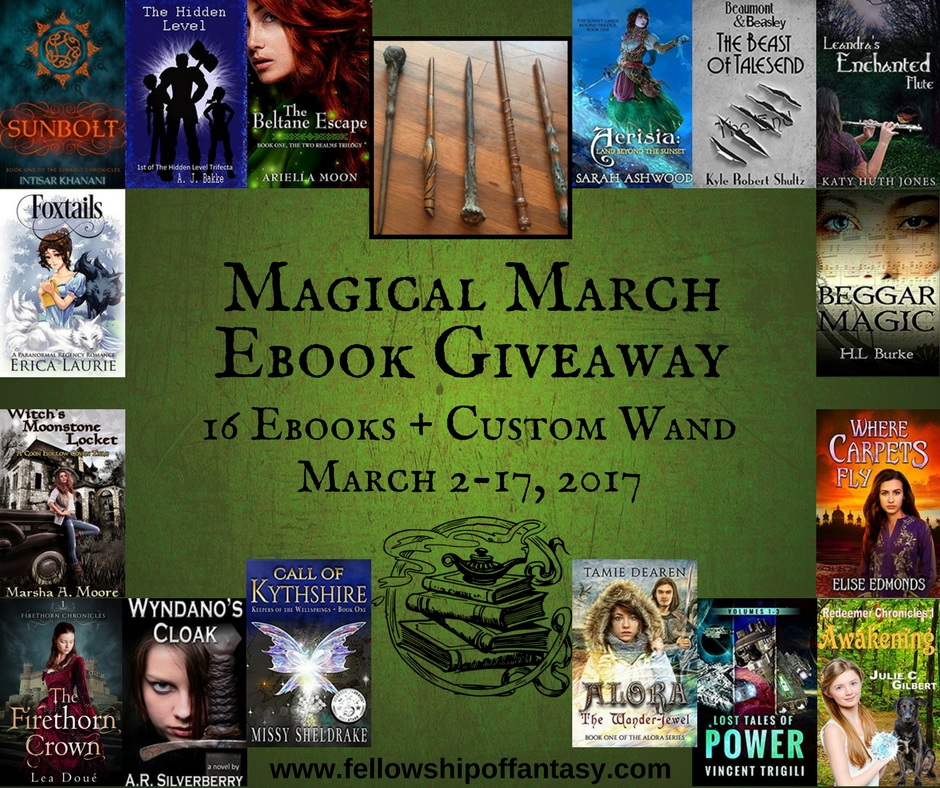 Here Be Magic …
Enchanted lands, magical creatures, fairies and witches and … space wizards? You bet! We've got all that and more for our Fellowship of Fantasy March eBook giveaway. Sixteen authors are offering sixteen adventures, along with a little something extra to make your month magical. Keep reading to learn more and get a closer look at a few books in the bundle.
Call of Kythshire
by Missy Sheldrake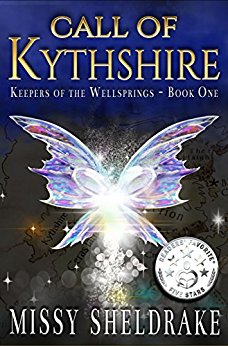 Inspired by books like the Harry Potter Series, the Chronicles of Narnia, and the works of Brian Froud and Jim Henson, Sheldrake hopes to capture the imaginations of readers of all ages with her Keepers of the Wellsprings series.
Azaeli Hammerfel has grown up in the guild hall of His Majesty's Elite in the peaceful kingdom of Cerion, training hard and dreaming of the day she will finally become a squire and ride out with her parents, both knights, on the King's Quest. Her dream comes true when she earns the right in her sixteenth year, but her name is left off the quest declaration and her parents and their guild ride off without her.
When tragedy befalls the Elite on their quest, Azi must band with her best friend Rian, a Mage Apprentice, to discover the source of a mysterious curse. They're joined by an unlikely companion: a colorful fairy named Flit. The fairy claims she is from Kythshire, a mysterious and legendary land of Fae, closed off from the outside and cloaked in secrets.
Together, the group seeks to unravel a Sorcerous plot which threatens both the existence of Kythshire, and the peace the kingdom of Cerion holds dear.
Call of Kythshire is a tale of love and friendship, the value of family, and the fight between light and dark. It is a journey of failure and redemption. It is a clean read, free of sex and gratuitous violence, with a strong female lead.
Where Carpets Fly
by Elise Edmonds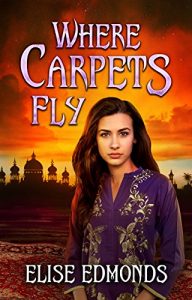 Elina Faramar finally leaves her family's flying carpet shop when her father reluctantly agrees she can take magic lessons in nearby Kamikan. Urban life promises adventure, and new friend Kara shows her the sights.
However, Elina soon sees a darker side of life: a foreigner arrested at the circus, forbidden schoolhouse rooms with odd comings and goings, and unsociable pupil Simeon's shady deals at the docks. Everything seems connected to the volatile neighbouring country of Pallexon, but no one will tell her why.
When Elina and Simeon develop a magical mind link, he seems close to confiding in her. But an unexpected voyage takes Elina and Kara away from answers and towards unknown danger in Pallexon.
Alone in a strange country, with no identity papers, the situation rapidly turns into a nightmare when Kara is mistaken for a spy. With her own freedom at stake, Elina must rely on her wits and magic to save her friend and unravel the secrets of Pallexon.
Sunbolt
by Intisar Khanani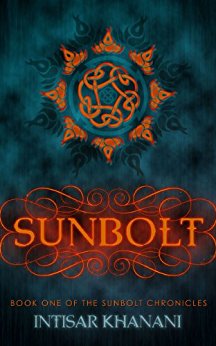 The winding streets and narrow alleys of Karolene hide many secrets, and Hitomi is one of them. Orphaned at a young age, Hitomi has learned to hide her magical aptitude and who her parents really were. Most of all, she must conceal her role in the Shadow League, an underground movement working to undermine the powerful and corrupt Arch Mage Wilhelm Blackflame.
When the League gets word that Blackflame intends to detain—and execute—a leading political family, Hitomi volunteers to help the family escape. But there are more secrets at play than Hitomi's, and much worse fates than execution. When Hitomi finds herself captured along with her charges, it will take everything she can summon to escape with her life.
Have a look at the entire collection of eBooks, and enter below to win them all–as well as a custom wand similar to the ones pictured here–for your very own.

Giveaway runs from March 2-17. The winner will be notified by email on March 18. [FoF reserves the right to substitute the custom wand with something of equal value for anyone outside the US or Canada.]
Enter below and good luck!