It's getting difficult to name these weekly update posts. Perhaps I should just start calling them all "Weekly Update" with a date! Anyway … another week has gone by.
Book one: progress has been made towards publishing. I now have a cover, and I'm in the final process of sorting payment and getting the files. This means I have pretty much everything I need to upload to Createspace and order my proof copies. That will be next week's task. I'm very excited about my cover–it looks great. But I think I'll save sharing it until nearer the publication date.
Book two: my aim this week was to crack on with the editing. I can't actually remember where I'd got to last week, but I think I've probably done five or six chapters this week, and I'm now 25% of the way through. So that's reasonable progress considering that life seems to get more manic every day as we get closer to Christmas.
I spent some time over this weekend in Exeter–a cathedral city in Devon, in the south of England. I was visiting relatives and doing church stuff, so unfortunately I didn't have time to take any pictures. However, I did drive past the Christmas lights and they were very pretty!
Here's a picture (not mine) of Exeter cathedral. I don't think I've ever visited the cathedral, although I have been around the town centre in the past.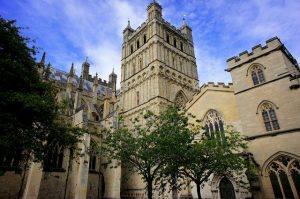 "Exeter Cathedral" by Barnyz is licensed under CC BY 2.0
If you're anything like me, life in the run up to Christmas turns into doing all one's normal stuff: work, chores, admin, writing etc. plus all the Christmas stuff: social, presents, cards, decorations, until you feel like a headless chicken. Hopefully, I will get some more editing done as well. I hope you all have a good week.