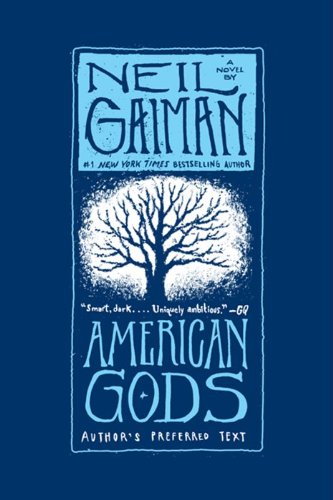 Book Six was a modern fantasy classic.
Blurb
After three years in prison, Shadow has served his time. But as the days and hours until his release tick away, he can feel a storm brewing.
Two days before his release date, his wife Laura dies in a mysterious car crash, in adulterous circumstances. Dazed, Shadow travels home, only to encounter the bizarre Mr Wednesday, who claims to be a refugee from a distant war, a former god and the king of America. Together they embark on a very strange journey across the States, along the way solving the murders which have occurred every winter in one small American town.
But the storm is about to break . . .
Disturbing, gripping and profoundly strange, Gaiman's epic novel sees him on the road to the heart of America.
Why I chose this book
I've struggled to get into Neil Gaiman's books in the past. I love his actual writing, but the stories themselves haven't done it for me. This was my last ditch attempt to enjoy one of his books, plus it's a modern classic that everyone seems to have read.
Rating/content
I rate this book as a DNF (did not finish) – made it to 50%. 
This book follows the story of Shadow, ex-con, who meets up with a mysterious man who turns out to be the incarnation of a god. The story follows their journey around America as they try and stir up the remainder of the old gods into battle against the new gods who are threatening to destroy them. The old gods are based on Norse Mythology etc., and the new gods are modern 'idols' like the personification of television.
It's an adult book, containing profanity and scenes of a sexual nature. It meanders a lot, so it's not for someone who likes a quick, straightforward read.
Good points
This is a well-written book. The main story was punctuated by little scenes about how some of the original settlers came to America bringing their gods with them. The stories were background, but they were complete and in some ways easier to get into than the main text.
The vision of this book is intriguing. The idea that the old gods are disappearing because no one believes in them reminds me of Terry Pratchett's Discworld series (no surprise, given that Gaiman and Pratchett have collaborated on books). The idea of the new gods of wealth, television, and media overtaking the older belief systems gives an interesting moral perspective on society.
Bad points
I gave up at the halfway mark, and to be honest, I'd have given it up earlier except I was reading it both for a book club and a personal challenge, so I thought I should give it a decent go.
The thing I didn't like about this book was the same thing as Neverwhere. The protagonist is passive: Shadow is along for the ride here. He doesn't know what's happening. No-one tells him anything properly, and the information comes out in not terribly coherent dribs and drabs. And he doesn't take any action to work out what's happening for himself. He just drifts along and does what he's told, hoping everything will become clear. There's a strong feeling of him being carried along by fate, and I prefer characters who can take control of their own adventure.
Stylistically, the book is slow-paced. We were at the 25% point before we found out specifically that Wednesday is a god, a fact the blurb reveals anyway. There's a lot of sections where Shadow spends time talking to people who seem irrelevant to the main plot. He ends up hidden away in a town called Lakeside where a lot of time is spent doing very little.
In the end, I got bored and decided I wasn't interested enough in Shadow as a character to continue. I flicked through the summary of the book on Wikipedia and it looked like the plot got more intricate and interesting, but I'd had enough by then.
Overall
If you like fantasy with a literary bent and a meandering style this is the book for you. As for me, a friend said, "If you didn't like Gaiman's other work, you won't like American Gods." Unfortunately, he was right.