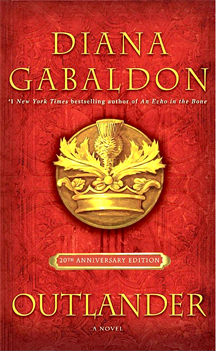 Book twelve was a historical romance with fantasy elements.
Blurb
Scottish Highlands, 1945. Claire Randall, a former British combat nurse, is just back from the war and reunited with her husband on a second honeymoon when she walks through a standing stone in one of the ancient circles that dot the British Isles. Suddenly she is a Sassenach—an "outlander"—in a Scotland torn by war and raiding clans in the year of Our Lord . . . 1743.
 
Claire is catapulted into the intrigues of a world that threatens her life, and may shatter her heart. Marooned amid danger, passion, and violence, Claire learns her only chance of safety lies in Jamie Fraser, a gallant young Scots warrior. What begins in compulsion becomes urgent need, and Claire finds herself torn between two very different men, in two irreconcilable lives.
Why I chose this book
It was just a book I've heard a lot about and never got around to reading.
Rating/content
I give this 4 1/2 stars out of 5.
Post-WW2 nurse Claire Randall crosses a stone circle into the 1740s. She meets both friend and foe and is caught up in local tensions between the English and the Scots. Aside from the time-travel element, this is largely a historical romance. Suitable for adults: contains sex and violence.
Good points 
I found the historical setting absorbing. Claire's struggles at coming to terms with an 18C world are understandable and believable. There are unpleasant aspects to that world, but she manages to be a strong female character in a world before female independence.
The romance arc is well-drawn. From a forced marriage for convenience, early troubles of married life, and a developing bond between the lead characters, Claire and Jamie, I was rooting for their survival.
Even the everyday concerns of historical life were interesting, despite the lack of overarching plot at times. The detail carried the story, even when plot ran thin.
Bad points 
This a long book, and it wasn't clear where the plot was going at times. Claire is aiming to return to her modern life and makes a significant choice in this respect about halfway through. Following that choice, there is no obvious plot arc, until it becomes clear that in some ways, this is more Jamie's story than Claire's. She remains an outsider to some extent.
The sex and violence were more prominent than my personal taste prefers. The recounting of childhood beatings and various acts of torture, in particular, seemed a tad unnecessary and could have been toned down whilst retaining the impact of these issues.
Overall
A great read for historical romance fans, but if you're a straight fantasy reader, it'll probably disappoint. I'll consider reading the next in the series, but they are long books, so I haven't quite decided if it's worth the time and investment yet.