A big thank you to my friend, Sylvia Heike, for nominating me for the Versatile Blogger Award!
Please check out her blog where she chats about her writing projects. I'm a big fan of her fantasy drabbles – click here for my favourite one.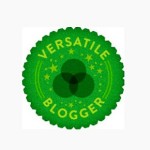 The rules of nomination:
1) thank the person who awarded you
2) include a link to their blog
3) select & nominate 15 blogs/bloggers you've recently discovered or follow regularly and
4) tell 7 things about yourself
I nominate the following blogs for the Versatile Blogger Award:
Writing Blogs:
1 SpeckLit: Read fantasy drabbles, great stories in one hundred words.
2 Fiction University: Janice Hardy writes great articles on writing. I particularly enjoyed her 30 day workshop about editing novels.
3 Bitlather Chronicles: Follow Leslie & Dave as they write their epic arcane steampunk series.
4 Hypergraphia: Follow Alyson as she writes Powerful, her fantasy novel about Kyla, a princess coming to terms with her future.
5 Writers Helping Writers: Great informational posts on writing. A recent series on choosing special talents for your characters caught my eye.
6 The Vandal: Derek Haines combines humour and great information about writing and many other subjects in this informative and entertaining blog.
7 Helping Writers Become Authors: Lots of very interesting analysis of the structure of a book, plus other great posts on writing.
8 Steampunk Girls: Check out these amazing steampunk costumes.
Humour/Fitness/Fashion Blogs:
9 Cat vs Human: Every cat owner will identify with these sweet cartoons!
10 Crappy Pictures: Not currently active, but do scroll through the archives. The parenting cartoons are hilarious, whether or not you have kids!
11 Nerd Fitness: My favourite fitness blog, with inspirational posts on getting motivated.
12 Putting Me Together: For everyday fab fashion and advice on remixable wardrobes, this is the place to go.
13 Not Dressed As Lamb: Fashion doesn't have to be frumpy once you hit 40 – quite the opposite.
14 Curves And Confidence: Inspirational fashion blog for curvy ladies.
15 Loop Looks: Real-life everyday outfit ideas for work
Seven Things About Me:
1) I'm crazy about my two beautiful cats
2) Zumba is my fitness passion
3) My favourite book as a child was Anne of Green Gables
4) My favourite colour is turquoise
5) Recently, I turned an old fish tank into a terrarium
6) I could live on pizza
7) I'm left-handed