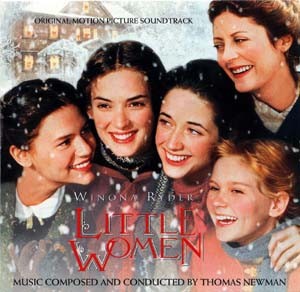 Louisa May Alcott books were a childhood favourite of mine. Her most well-known book is LIttle Women, popularised more recently by the 1994 film starring Winona Ryder. The film, and many versions of the book, include both the first and second book in the series, Good Wives.
The plot follows the adventures of four sisters through their teen years and into their early twenties. Each sister has a very different personality. Meg is the lady-like one with a weakness for finery. Jo is the tomboy who has to tame her wild ways. Beth is the delicate invalid, and Amy is the school-girl with a turn for absurd French phrases and a love for art.
Each girl has a different path to follow, and as they grow older and go their separate ways, the book follows each girl in turn through the trials and tribulations of life and love.
The third book in the series is called Little Men and focuses on Jo, who by this time is running a private school for boys. These boys, for one reason or another, don't fit into the traditional school system. This book is almost a series of vignettes in the lives of the boys, with our friends from the first book making an appearance as adults from time to time. However, as a young girl I found it readable and entertaining.
The final book in the series is aimed at a more grown-up audience, and I didn't enjoy it until later in my teens. The book Jo's Boys deals with all our friends from the three previous books, and again is quite episodic, flitting between the lives of various of the young men and women. Some sections I preferred more than others, but overall it's a great read.
Jo was always my favourite of the sisters. I identified with her tomboy nature and desire to be independent and get out there and see things. Her impetuous nature, and her writing career all appealed to me. Even as an adult she had a tendency to be clumsy and thoughtless at times, although her marriage brought out her good qualities and caring nature.
LM Alcott has written a variety of other novels, too, but none are as well known as the Little Women series. I would like to highlight another favourite of her series, a two-part one, which you may not have come across before:
When Rose Campbell, a shy orphan, arrives at "The Aunt Hill" to live with her six aunts and seven boisterous male cousins, she is quite overwhelmed. How could such a delicate young lady, used to the quiet hallways of a girls' boarding school, exist in such a spirited home? It is the arrival of Uncle Alec that changes everything. Much to the horror of her aunts, Rose's forward-thinking uncle insists that the child get out of the parlor and into the sunshine. And with a little courage and lots of adventures with her mischievous but loving cousins, Rose begins to bloom.
Rose, despite her shyness, is full of spirit. Her new life takes some adjusting to, and her childhood adventures with her new cousins are entertaining. The thing that struck me the most was the emphasis on bringing up a girl with health being the key factor, rather than fad and fashion. I quote the following passage:
"I'm too old for running, uncle; Miss Power said it was not lady-like
for girls in their teens," answered Rose, primly.

"I take the liberty of differing from Madame Prunes and Prisms, and, as
your physician, I order you to run. Off with you!" said Uncle Alec, with
a look and a gesture that made Rose scurry away as fast as she could go.

Anxious to please him, she raced round the beds till she came back to
the porch where he stood, and, dropping down upon the steps, she sat
panting, with cheeks as rosy as the rigolette on her shoulders.

"Very well done, child; I see you have not lost the use of your limbs
though you are in your teens. That belt is too tight; unfasten it, then
you can take a long breath without panting so."

"It isn't tight, sir; I can breathe perfectly well," began Rose, trying
to compose herself.

Her uncle's only answer was to lift her up and unhook the new belt of
which she was so proud. The moment the clasp was open the belt flew
apart several inches, for it was impossible to restrain the involuntary
sigh of relief that flatly contradicted her words.

"Why, I didn't know it was tight! it didn't feel so a bit. Of course it
would open if I puff like this, but I never do, because I hardly ever
run," explained Rose, rather discomfited by this discovery.

"I see you don't half fill your lungs, and so you can wear this absurd
thing without feeling it. The idea of cramping a tender little waist
in a stiff band of leather and steel just when it ought to be growing,"
said Dr. Alec, surveying the belt with great disfavour as he put the
clasp forward several holes, to Rose's secret dismay, for she was proud
of her slender figure, and daily rejoiced that she wasn't as stout
as Luly Miller, a former schoolmate, who vainly tried to repress her
plumpness.

"It will fall off if it is so loose," she said anxiously, as she stood
watching him pull her precious belt about.

"Not if you keep taking long breaths to hold it on. That is what I want
you to do, and when you have filled this out we will go on enlarging it
till your waist is more like that of Hebe, goddess of health, and less
like that of a fashion-plate the ugliest thing imaginable."

"How it does look!" and Rose gave a glance of scorn at the loose belt
hanging round her trim little waist. "It will be lost, and then I shall
feel badly, for it cost ever so much, and is real steel and Russia
leather. Just smell how nice."

"If it is lost I'll give you a better one. A soft silken sash is much
fitter for a pretty child like you than a plated harness like this; and
I've got no end of Italian scarfs and Turkish sashes among my traps. Ah!
that makes you feel better, doesn't it?" and he pinched the cheek that
had suddenly dimpled with a smile.
I should mention, that all the books referenced in this post are in the public domain and available to read on Project Gutenberg.
This passage, however old, still doesn't feel out of date. Girls of today can still identify with Rose's trials and tribulations, such as they are.
In this sequel to Eight Cousins, Rose Campbell returns to the "Aunt Hill" after two years of traveling around the world. Suddenly, she is surrounded by male admirers, all expecting her to marry them. But before she marries anyone, Rose is determined to establish herself as an independent young woman. Besides, she suspects that some of her friends like her more for her money than for herself.
Again, I love the independent streak that Rose has. She has a determination to make something of herself and do the best she can with her own abilities. You can probably determine that Rose's love interests are among her cousins, which I imagine seemed a typical solution in that day and age. It seemed fairly natural to some extent, as Rose didn't meet any of the boys until she was a teenager. The financial issues dealt with in this book are interesting: family wealth, marriage out of one's station, and philanthropy as a profession. A book more for older children than the first one, as the adventures are more grown up and less childish, but again very enjoyable.
So, I hope I've inspired you to pick up an old favourite, or perhaps search out a new children's classic. Sometimes, the old stories really are the best.