I didn't count exactly how many books I read this year, but it was probably around 70. This year, I've been focusing on reading both fantasy and also books from other indie writers. And my top ten for the year includes a great selection of both! (Numbers are not indicative of position)
Indie Books
1. From the Stories of Old: A Collection of Fairy Tale Retellings – A JL Anthology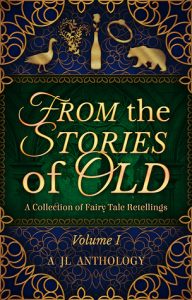 In this international collection, new life is given to fairy tales, both classic and obscure.
Mythical creatures put the fairy in Fairy Tale. Mermaids, selkies, and ocean guardians experience the best and worst of humanity; sisters encounter an unusually friendly bear; a brave bride meets a silly goose; and a spinner of gold sets the record straight.
Urban fantasies modernize classics: a Frenchman learns the truth about magic, his past, and his girlfriend; a girl sets out to find love but receives a curse; and today's naughty list makes Old Saint Nick not-so-jolly.
New worlds bring a fresh sense of wonder! In the future, a young woman fights for her people and herself; a bastard son finds acceptance in a world ruled by women; and a farmer's wits win the heart of a frosty king.
Discover unexpected twists on old favorites, and fall in love with new tales and worlds to explore!
There is something for everyone in this eclectic mix of fairytale retellings. From rural to urban, ancient to modern, dark humour to bittersweet edges, it's a unique collection.
My personal favourites included the more traditional retellings of Beneath his Skin and Daughter of the Air. I love a fairy-tale that feels … UnDisneyfied … If that's a word. Something that draws on the feel of the fairy worlds as being unknown and slightly ominous, as in the original tales, rather than an automatic happy ending.
Another favourite was The Female Warrior, a retelling of Mulan in a post apocalyptic world. The mix of traditional tale and ruined world gels well, and post-apocalyptic/dystopian is one of my favourite genres.
Her Dearest Treasure draws on one of my own favourite fairytales, The Peasants Wise Daughter, and I thought it was a great homage to the tale.
Finally, I enjoyed The Glass Maker, with its gender swap take on Cinderella, in an Arabian style city – a favourite setting of mine.
A great book all round.
2. The End of the Trail – Louis Rakovich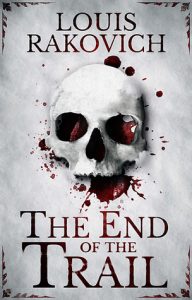 A barren land of salt and snow; a castle where underground paths twist and turn in endless circles and a reclusive king has not shown his face in years; a forest where few things are what they seem. An unnamed hero must navigate through these places as he takes on the task of tracking down a supposed witch, in a story that blends dream and reality, rumor and truth, danger and hope. 
As a general rule, I don't like magical realism, but this novelette is beautifully written and well worth the read. A surprise entry in my list, but deserved.
3. Heart of the Winterland – Kristen Kooistra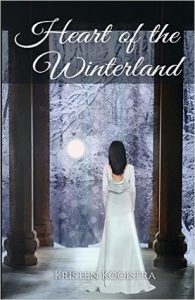 In the heart of snow-cursed Trabor, a princess and her guardian live in a haze cast by an ancient spell. On the dawn of her 200th birthday, Princess Calisandra awakes with a clear mind. No longer happy to just sit idle, Cali and Voice set out to find what lies beyond their shielded kingdom.
Joined by Angel—a fiery redhead that delights in ruffling Cali's feathers—they soon find themselves fleeing from the legendary Captain Kota who is determined to capture Angel. Cali's perfect vision of her journey is shattered and it takes all of her strength just to keep up in a world she doesn't understand. Everything is a new experience and tests Cali physically and mentally.
Will she ever find out what happened to her kingdom? And what will Voice's purpose be when Cali no longer needs her?
This book is a fun mixture of coming-of-age adventure and fairytale. There are two intertwined storylines: Cali makes her journey of discovery through the world, whilst learning about her past and the history of her country from Voice, her guardian. The history tells of mysterious sorceress, Amee and her desire for revenge fueled by strong magic.
My favourite character in the novel is Amee. Despite being decidedly evil, she's very relatable and great fun to read. I also love the diverse cast of characters and locations, from the outspoken barmaid, to the Scottish sea captain (and his cat), and the island castaways. Cali's growth over the novel is well portrayed from thoughtless princess to a queen fit to rule. The storylines pull together with a great twist at the end.
4. Operation Space Cats: The Rescue Mission – Lesa McKee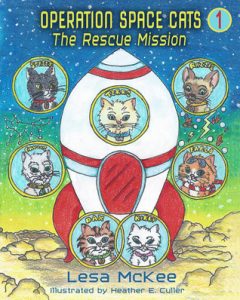 When Tebbs, the curious cat discovers part of his human family is missing in space, he plans to go on a rescue mission with Granny. But first he must recruit a team to help locate them. Problem is, he'll be sneaking the small crew aboard, and hoping Granny won't find out.
Enter the space cats … A mixed bunch of furry felines who have many lessons to learn about what it takes to make a team great. Bravery, teamwork, and most of all faith!
When mishaps occur, and danger lurks ahead, they'll need to rely on each other. Will the team falter? Or can they pull together to make their mission a success?
Join Tebbs and the team for a series of adventures that are out of this world. Adored by kids, cats and kids at heart!
Operation Space Cats is a fun-filled read for children. The loveable furry friends go on a mission to outer space to rescue two missing humans. The plot is action from start to finish, and keeps you turning the page. I love the characterisation of the cats – with seven felines you'd think it would be difficult to tell them apart, but not so. They all have individual characteristics, emphasised by Heather's beautiful illustrations.
For Christians, a great message of faith runs through the book. I love how it illustrates that God is part of our everyday lives, no matter what we're up to – a really important message for children.
I think this book is suitable for young children, and for parents to read aloud to their children. The end of the book includes some discussion points on the Christian faith, and I think this would also make the book a perfect Sunday School end of year gift, if that's something your church does, or for your godchildren. I know I've struggled to find appropriate exciting Christian books for children before, with a balance of fun and faith. This book is the ideal combination.
5. Cora and the Nurse Dragon – HL Burke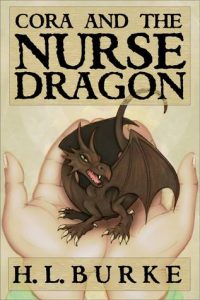 Cora's a young girl with two dreams: to be a dragon jockey when she grows up and to own a pet dragon now. She constantly buys "egg packs" at the dragon emporium in hopes that one will hatch into a rare pet-sized dragon, but only gets short-lived mayflies. However, when an unexpected egg does develop into something new, Cora may be over her head.
Excellent children's book about a young girl fascinated by racing dragons. She hatches an unusual dragon and the adventures start. I love the dragon lore in this novel and all the detail of their colonies. Despite being for children this book also covers some interesting issues like legality vs morality. Gentle Christian themes throughout. Excitement and adventure to the end.
6. Death of an Idiot Boss – Janice Croom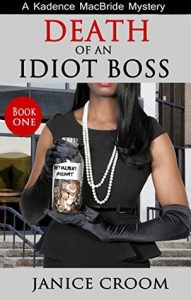 Corporate climber, Kadence MacBride, is smashing the glass ceiling with her size ten pumps, or so she thinks. Not only does she get passed over, her promotion goes to her idiot employee, and he becomes her new boss.
Worst day ever, or so she thinks. Worst doesn't have a floor, and idiots tend to get themselves killed.
Losing a promotion–bad
Becoming the prime murder suspect–CATASTROPHIC
Police Captain Cooper has hit his own glass ceiling. Solving this case quickly will break him through it, so Cooper doesn't care what's true. Since Kadence makes the easiest target, he's gunning for her.
Long buried secrets from the Civil Rights era seek vengeance from the grave. Kadence has more recent secrets to keep.
There are some things you don't delegate. Adding amateur sleuth to her resume, Kadence sets out to find the real killer. If she fails, she'll trade her red power suit for an orange jumpsuit.
I really enjoyed this murder mystery. I loved the plot twists and turns. And the African-American lead character with her family and their history raised a lot of interesting issues and gave the book depth. Not something I'd normally pick up, but one I'm glad I did.
Traditionally Published Books
7. The Aeronaut's Windlass – Jim Butcher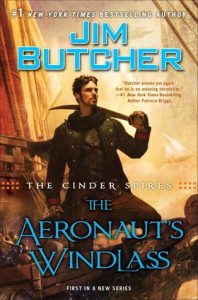 Jim Butcher, the #1 New York Times bestselling author of The Dresden Files and the Codex Alera novels, conjures up a new series set in a fantastic world of noble families, steam-powered technology, and magic-wielding warriors…
Since time immemorial, the Spires have sheltered humanity, towering for miles over the mist-shrouded surface of the world. Within their halls, aristocratic houses have ruled for generations, developing scientific marvels, fostering trade alliances, and building fleets of airships to keep the peace.
Captain Grimm commands the merchant ship, Predator. Fiercely loyal to Spire Albion, he has taken their side in the cold war with Spire Aurora, disrupting the enemy's shipping lines by attacking their cargo vessels. But when the Predator is severely damaged in combat, leaving captain and crew grounded, Grimm is offered a proposition from the Spirearch of Albion—to join a team of agents on a vital mission in exchange for fully restoring Predator to its fighting glory.
And even as Grimm undertakes this dangerous task, he will learn that the conflict between the Spires is merely a premonition of things to come. Humanity's ancient enemy, silent for more than ten thousand years, has begun to stir once more. And death will follow in its wake…
A great read with steampunk action from start to finish. I love the inventiveness of the world, where everyone lives in Spires, habitations suspended above the surface of the world. The talking cats are inspired and great fun, and I could root for all the characters. Quite technical in places, particularly when talking about the airships, but it didn't hamper my enjoyment.
8. Vampire Academy – Richelle Mead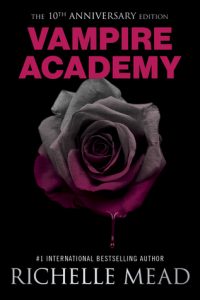 St. Vladimir's Academy isn't just any boarding school—it's a hidden place where vampires are educated in the ways of magic and half-human teens train to protect them. Rose Hathaway is a Dhampir, a bodyguard for her best friend Lissa, a Moroi Vampire Princess. They've been on the run, but now they're being dragged back to St. Vladimir's—the very place where they're most in danger. . . .
Rose and Lissa become enmeshed in forbidden romance, the Academy's ruthless social scene, and unspeakable nighttime rituals. But they must be careful lest the Strigoi—the world's fiercest and most dangerous vampires—make Lissa one of them forever.
I love this modern take on vampires. The lore and world building is well done, and the magic system is interesting. I love the theme of mystery that runs throughout as Rose tries to figure out what's going on with Lissa. The best modern vampire book I've read for ages. Some of the teeny high school stuff was a little irritating at times. But I shall definitely read book two at some point.
9. Arrows of the Queen – Mercedes Lackey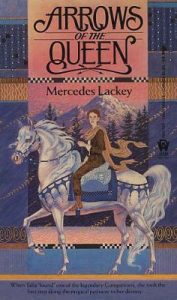 Talia, a young runaway, is made a herald at the royal court after she rescues one of the legendary Companions. When she uncovers a plot to seize the throne, Talia must use her empathic powers to save the queen.
I enjoyed this magical fantasy about a young girl from a sheltered society learning about her new powers in the royal city. Book two wasn't as good, but I finished off the trilogy and also enjoyed book three.
10. Leviathan Series – Scott Westerfeld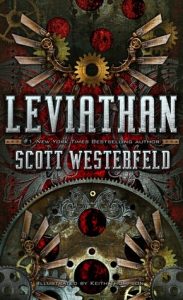 Prince Aleksander, would-be heir to the Austro-Hungarian throne, is on the run. His own people have turned on him. His title is worthless. All he has is a battletorn war machine and a loyal crew of men.
Deryn Sharp is a commoner, disguised as a boy in the British Air Service. She's a brilliant airman. But her secret is in constant danger of being discovered.
With World War I brewing, Alek and Deryn's paths cross in the most unexpected way…taking them on a fantastical, around-the-world adventure that will change both their lives forever.
A great adventure story based on alternate history. I love the inventiveness of the transport and weaponry involved. The idea of creating airships from fabricated beasts is fascinating. I read all three books in this series and rated them all with top marks. Probably my favourite series of the year.
So, those are my favourite books of the year. May there be many more great reads to come in 2017!