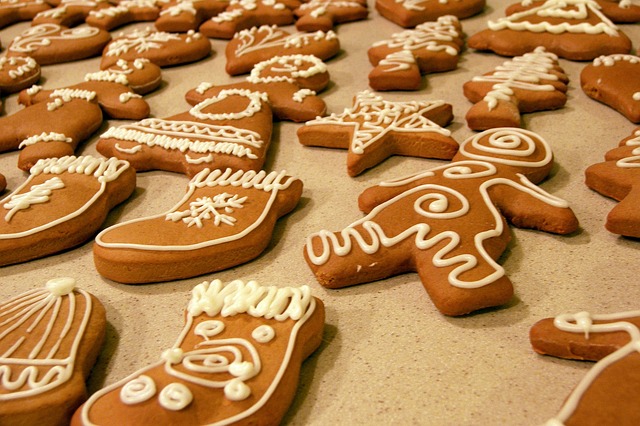 Another week has flown by. I've included the picture of yummy-looking gingerbread to show the kind of thing it would be nice to spend the couple of weeks before Christmas doing. But as I work full-time, I don't tend to bother making time for baking. Thankfully, these days there are lots of nice supermarkets that do the baking for busy people!
I have however completed most of my essential pre-Christmas chores now. Just a few Christmas cards and presents to hand deliver and the food shopping to do. Christmas day will be me and my husband and the cats, so I'm looking forward to that. (Not forgetting that the highlight – the Doctor Who Special on BBC1!)
So, on to this week's writing progress:
Book one: I'm still awaiting proofs, which should arrive this coming week. But I have started to prepare for doing the e-book, downloading various bits of software I need etc.
If you want a heads up on how to produce e-books, I recommend checking out Derek Murphy's site DIY Book Formats. He's got some great guides to formatting both paperbacks and e-books.
Book two: I did well with editing this week–mainly because I had a mostly free day yesterday. I edited ten chapters over the week and passed the half way mark. I'm on track to get it finished by the end of the month, but Christmas is unpredictable in terms of how much I get done, so we'll see.
Aside from that, I created myself a 2017 reading challenge on Goodreads. If you check out my Goodreads profile you can see it, but I'll probably share more details about it later. I've decided I wanted to get around to reading some classic fantasy books and some other books that have been on my list for ages. You know, the kind of books you think you should read and they sit on your list for years. Well, now they're on the official list. The challenge will probably extend over a year, because some of them are quite hefty, but at least this way, they won't still be on my hypothetical list in five years time.
I haven't done a proper reading challenge for years now, but I'm hopeful that having selected exactly the books I want to read, I should get it finished at some point. My problem with using official challenges is that there is always a book or two you have to force yourself to read when you don't really want to.
Another way to set a basic reading challenge is just to do the general Goodreads challenge where you simply select the number of books you plan to read in the year. I might do that as well, because I shall probably read books outside my challenge. I'm always picking up new indie books on Kindle. I think I read about 65 books in 2016, but I forgot to set the dates on most of them on Goodreads, so it's hard to tell. Nor did I record everything I read, so it's an estimate.
Let me know if you are doing any fun reading challenges next year!