This post is another post in the "Stuff I Like" series, where I share some of my hobbies with you. It also happens to be a hobby I did on holiday, so it's kind of another holiday post. Geocaching is a really fun hobby. If you want to describe it in one sentence, it's "Using multi-million dollar satellites to find Tupperware in the woods!"
Let me explain how it works. Geocaching is like an online treasure hunt. You create a (free) account on the Geocaching website and this gives you access to a map of geocaches. Each geocache has satellite coordinates, so you do need a hand-held GPS device of some kind. Your smartphone will suffice as you can download the Geocaching app for a few pounds. Otherwise you want something like this, a handheld GPS which comes in a range of prices.
So you plug the coordinates in your device, or select the geocache on your app, and the GPS system then directs you to the cache. Caches are hidden from public view, but will always be in public areas, never on private property. They can be anything from a tiny tiny magnetic tube, to a great big bucket. It may sound easy, but GPS devices only tend to be accurate to within a few feet, so depending on how good your signal is, you can actually spend quite a time looking in the surrounding area.
Every geocache is sealed to the elements, and inside contains a log, which you sign to say you found it. Larger geocaches may also contain small toys and nicknacks. These are mainly aimed at children, and you are encouraged to only take something if you leave something behind. Some contain special objects called Travelbugs: these have a particular travel goal, and you take them from one cache and move them to another. For example, a Travelbug may start in England and wish to travel to France, and if you can take it a step nearer, you can do so.
Once you've found the geocache, you also log online that you've found it, and you create a list of all the caches you've found and can make comments about them on the website. You can also check the website for hints and other people's comments if you are having difficulty locating it.
You may be wondering if there is a point to this particular hobby! I think the reason a lot of people go geocaching is to entertain their children. It's something to do, and good fun, like a treasure hunt. My other half and I tend to do them on holiday (as we have found most of the ones in the local area). Geocaches are often located in places of interest, and it's a nice way to go for a walk, but with a specific aim, and possibly a nice view, local scene, or historical monument at the other end. It's a good way of getting a bit of exercise without feeling like you are getting exercise – something I always aspire to!
We've found geocaches on gypsum cliffs, war memorials, on the beach, at panoramic views, and more recently, we went looking for one on holiday in Spain and came across a creepy abandoned mine in the middle of the wood: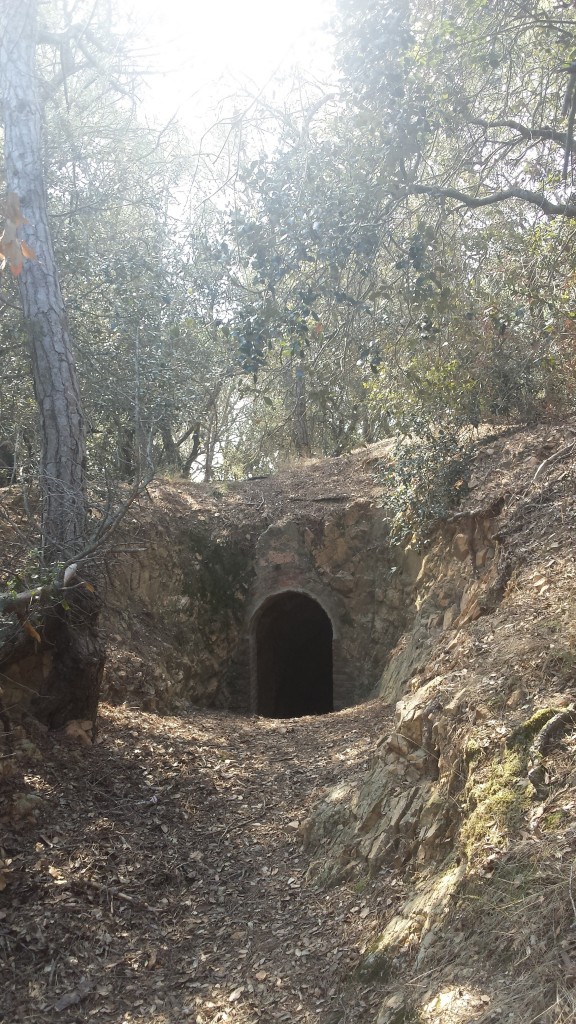 We didn't find the geocache here as from what we could make out of the Spanish clue it was somewhere down there and we didn't have a torch. But it was an interesting morning.
Geocaches can be found all over the world, so it's a great hobby to do anywhere. Each cache has a graded difficulty level, so if you have limited mobility it's also possible to participate. Many city geocaches are located in parks and on fences and gates and are easily accessible. They also come in many forms. Some are puzzle geocaches, where you get a clue to the actual location. Some are multi-cache, where you get a whole string of caches, each giving the location to the next.
So, if you fancy a new active hobby, this is one I would definitely recommend!