This is the next post reviewing books in the BBCs Big Read challenge that I participated in many years ago. For details of the overall challenge, see my previous post.
We're starting at number 100 and counting back to 1. And I will do a few books in each post. So … let's get started.
100. Midnight's Children, Salman Rushdie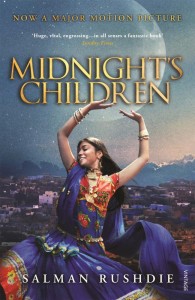 It's only since getting into writing seriously, that I've known what category of books this falls into. When I read it, I remember thinking, well, that was kinda weird. Yes, people, that's magical realism.
This book is about a boy born on the stroke of midnight of India's Independence. The boy, Saleem Sinai, discovers that all children born in India between 12 a.m. and 1 a.m. on that date are imbued with special powers. The closer to midnight they were born, the better their power is. He himself was telepathic and can use his powers to talk to all these other magical children in his mind.
The story itself discusses events in India, both before and after independence.
This was one of those books that I'm glad I read, but found underwhelming, and that has generally been my experience with magical realism. I suppose it's because it promises magic, which I love, but has a more literary bent, rather than an action-filled plot.
Anyway, I would put this book in the 'interesting' category.
99.  The Princess Diaries, Meg Cabot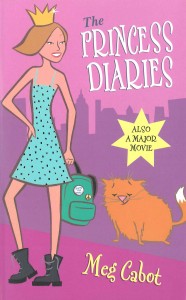 This is a fun teenage read. Mia Thermopolis keeps a journal. She's your everyday, average teen girl with teen problems. Her father comes to visit. It turns out he's not a European politician like she thought, he's king of a small (made-up) country in Europe called Genovia. And Mia is now to come of age and become the Crown Princess. Cue chaos.
Mia has to deal with paparazzi and being thrown in the limelight, and has to endure princess training from her aristocratic grandmother.
I think I'd have loved reading this as a teen.
98. Girls In Love, Jacqueline Wilson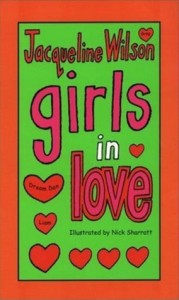 There are a lot of Jacqueline Wilson books on the list, and I have to say, I don't really enjoy her style. They're all kind of depressing and about real life and stuff. Children whose parents get divorced, and dealing with death …. I'm the kind of person who reads books for escapism, rather than learning how to deal with life.
So … I can't actually recall reading this one at all, even having read the synopsis, so that probably tells you what I thought about it.
If you have a tween/teen who enjoys this kind of thing, they're good books, don't get me wrong. Just not for me.
Anyway, here's a brief summary of this one:
The book opens with Ellie's Family holiday to Wales where she meets a nerdy boy named Dan, Dan falls for Ellie and asks her out but his feelings are not reciprocated and Ellie turns him down. Ellie arrives back at school after the summer holidays to find her best friend, Nadine, has a new boyfriend named Liam, her other friend, Magda, soon asks a boy named Greg out as well. Feeling left out, Ellie lies to her friends about dating Dan and describes him falsely as cool, handsome and 15 years old. Trouble ensues etc…
97. Love In The Time Of Cholera, Gabriel García Márquez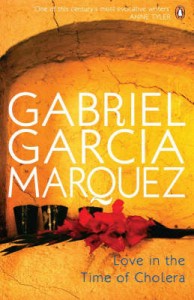 'It was inevitable: the scent of bitter almonds always reminded him of the fate of unrequited love'
Fifty-one years, nine months and four days have passed since Fermina Daza rebuffed hopeless romantic Florentino Ariza's impassioned advances and married Dr Juvenal Urbino instead. During that half-century, Flornetino has fallen into the arms of many delighted women, but has loved none but Fermina. Having sworn his eternal love to her, he lives for the day when he can court her again.
When Fermina's husband is killed trying to retrieve his pet parrot from a mango tree, Florentino seizes his chance to declare his enduring love. But can young love find new life in the twilight of their lives?
Unfortunately, I don't think I cared by the end. This book was in the category 'yay, I read it and now I never have to read it again'. I vaguely remember it being slow-moving and boring. But plenty of people rave about it, so yeah, just not my cup of tea.
Okay, so out of my first four, I only really enjoyed one. Not great. I do like some literary books, honest. Till next time…