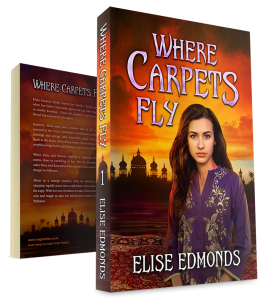 All this week you can enter my giveaway to win a paperback copy of Where Carpets Fly!
Elina Faramar finally leaves her family's flying carpet shop when her father reluctantly agrees she can take magic lessons in nearby Kamikan. Urban life promises adventure, and new friend Kara shows her the sights.
However, Elina soon sees a darker side of life: a foreigner arrested at the circus, forbidden schoolhouse rooms with odd comings and goings, and unsociable pupil Simeon's shady deals at the docks. Everything seems connected to the volatile neighbouring country of Pallexon, but no one will tell her why.
When Elina and Simeon develop a magical mind link, he seems close to confiding in her. But an unexpected voyage takes Elina and Kara away from answers and towards unknown danger in Pallexon.
Alone in a strange country, with no identity papers, the situation rapidly turns into a nightmare when Kara is mistaken for a spy. With her own freedom at stake, Elina must rely on her wits and magic to save her friend and unravel the secrets of Pallexon.
Enter here!
This giveaway will run from 27-31 March 2017 GMT and is open worldwide. The prize is one paperback copy of Where Carpets Fly. There are no cash alternatives. Entry is free via Rafflecopter. Additional entries can be gained by following Elise Edmonds on Twitter and Facebook and by signing up to her newsletter. The winner will be chosen at random and will be informed by email. The winner has 48 hours to respond to the winner notification to claim their prize. The prize will be despatched via Createspace in accordance with their standard delivery terms.