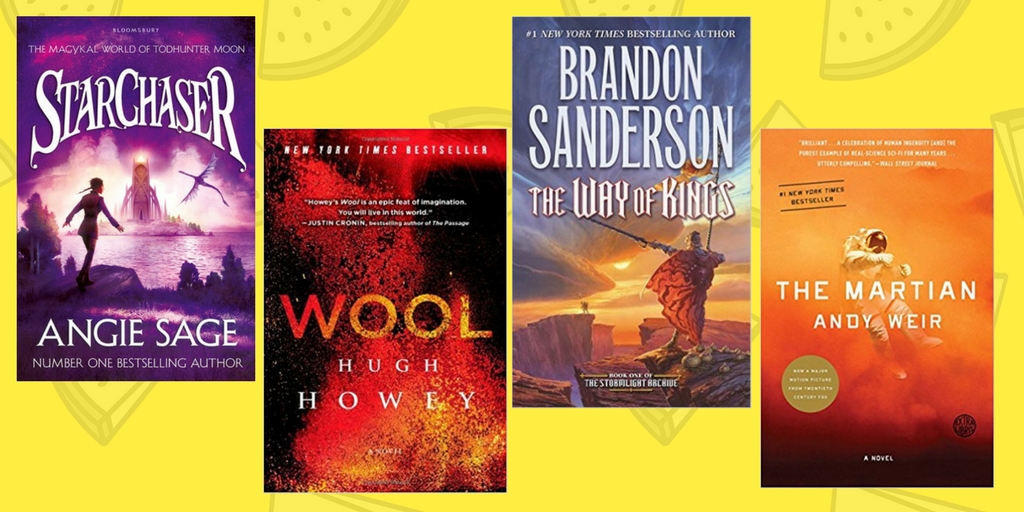 At the beginning of the year, I made some reading challenges for 2017. I had a general challenge of 80 Goodreads books, and a specific list of 38 books that I wanted to read. During the year, I decided that 80 books was going to be too easy so I upgraded the challenge to 100 books.
And I completed my 100 books earlier this month! To see the full list, check out my Goodreads Reading Challenge page. However, I decided that doing a challenge like that has a downside–basically, it encouraged me to read shorter, easier books to reach my goal. Consequently, quite a lot of the longer books I want to read got put to one side. So I shall take this into account when I set a reading goal for next year. I like the Goodreads challenge because it counts my books, but I'll be picking a much lower goal.
Now for the specific books. I didn't really do too well on this because I kept getting sidetracked by other books. And then I also found that because I'd decided to review every single book on this list, I was procrastinating about reading them. So that's another point to bear in mind. In the end, I gave myself permission not to review them if I didn't feel the urge. The remaining books on this list will be carried forward to next year's challenge, and next year, I will only review the occasional book on my blog.
General classics that I want to read but have never got around to:
Oliver Twist – Charles Dickens: Read and reviewed – 4* (I read this with my writer friend Kristen Kooistra)
The Fault in our Stars – John Green: Read – 5* (This was such an amazing read–I didn't really have the words to describe it)
The Call of Cthulhu – HP Lovecraft: Read and reviewed – 5* (I persuaded my husband, a horror fan, to read this – he wasn't impressed as he didn't enjoy the distant style of narrative)
The Old Man and the Sea – Ernest Hemingway: Not read
Indie authors who made it big and were taken on by traditional publishers:
Wool – Hugh Howey: Read and reviewed – 5* (The sequels will be going on next year's list!)
The Martian – Andy Weir: Read and reviewed – 5* (Also watched the movie – enjoyed that too)
Switched – Amanda Hocking: Not read
Something that sounded intriguing but that I shall probably regret:
Infinite Jest – David Foster Wallace: Bought but not read
An American writer I'd never heard of before becoming friends with Americans online, and they all go on and on about him:
Slaughterhouse-Five – Kurt Vonnegut: Bought but not read
Cat's Cradle – Kurt Vonnegut: Bought but not read
Classic fantasy that everyone else seems to have read and I haven't:
The Sword in the Stone – TH White: Read and reviewed – 3* (But worth reading just because it's a classic)
Eragon – Christopher Paolini: Read and reviewed – 4* (Also read the sequel and gave it 3*, but the series seemed to be a downwards spiral so I won't be reading further)
The Way of Kings – Brandon Sanderson: Read and reviewed – 5* (This is probably my favourite read of the year – I'll be putting the second book on next year's list)
American Gods – Neil Gaiman: Read and reviewed – DNF (My only DNF on this list so far. I don't really enjoy Gaiman's passive protagonists)
Outlander – Diana Gabaldon: Read and reviewed – 4.5* (Probably won't invest time in further books in this series, because although I enjoyed it, it was very long)
The Eye of the World – Robert Jordan: Bought but not read
The Final Empire – Brandon Sanderson: Bought but not read
A Wizard of Earthsea – Ursula K Le Guin: Not read
The City of Ember – Jeanne DuPrau: Not read
Books rated highly on lists of best fantasy books:
The Lies of Locke Lamora – Scott Lynch: Read and reviewed – 5* (Haven't decided if I'm reading a sequel yet)
The Magicians – Lev Grossman: Bought but not read
Jonathan Strange & Mr Norrell – Susannah Clarke: Not read
The Amulet of Samarkand – Jonathan Stroud: Not read
The Thief of Always – Clive Barker: Not read
Other fantasy books recommended by friends that sound good:

Green Rider – Kristen Britain: Read and reviewed 4* (A good solid fantasy but I didn't feel it offered anything new)
The Crystal Cave – Mary Stewart: Bought but not read
Hades Daughter – Sara Douglass: Not read
Bloodlines – Richelle Mead: Not read
Keeper of the Lost Cities – Shannon Messenger: Not read
The Goose Girl – Shannon Hale: Not read
Ella Enchanted – Gail Carson Levine: Not read
Peter and the Starcatchers – Dave Barry: Not read
Magic Bites – Ilona Andrews: Not read
The Fire Rose – Mercedes Lackey: Not read
The Library at Mount Char – Scott Hawkins: Not read
Harry Potter and the Cursed Child – John Tiffany: Not read
Continuations of series I'm currently reading:
StarChaser – Angie Sage (TodHunter Moon #3): Read and reviewed – 4* (The final book in the current Septimus Heap universe)
Frostbite – Richelle Mead (Vampire Academy #2): Not read

So in total, I read 13/38 (34%) and purchased another 6. Not great! But I did read lots of other books…
Finally, I want to highlight the Top 5 Indie Books I read this year: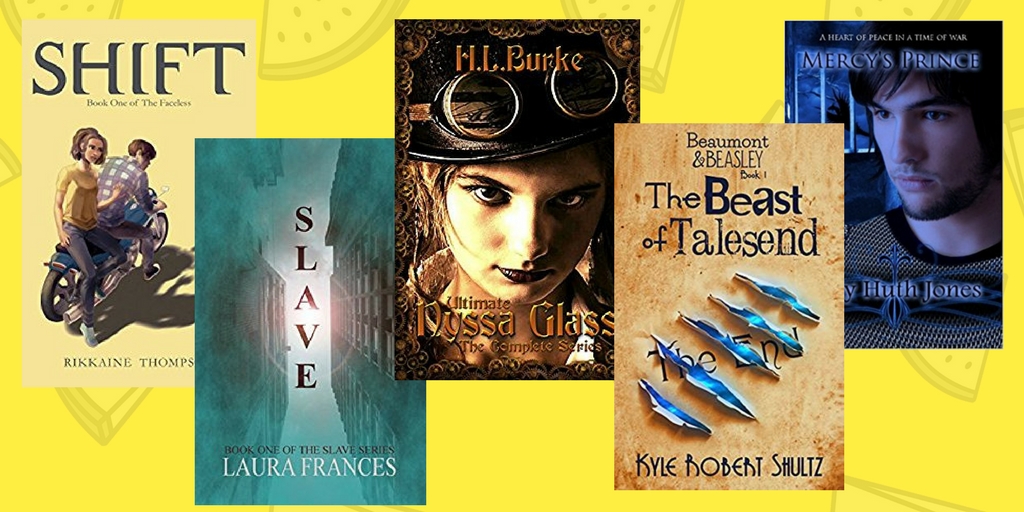 Shift by Rikkaine Thompson
Urban fantasy with a dash of dystopian. Property of the Institute, genetically-altered Noah knows nothing of his inherent abilities. Barren walls, endless drills, and brutal missions are no way of life, and he longs for meaning outside the confines of the Institute.
As seventeen-year-old Alyson Gale prepares for college to follow her dream of becoming an animator, her greatest concern is leaving her best friend, Fletcher, behind. On the cusp of something good, her life changes in the worst way possible.
Trust is buried beneath layers of deceit and mimicry and Aly is exposed to the secrets of the Faceless.
Ultimate Nyssa Glass by H.L. Burke
Young adult steampunk – five Nyssa Glass adventures in a single volume. Nyssa Glass is a reformed cat burglar turned electrician's apprentice, settled into a life repairing videophones and radio-sets. However, when her past comes calling, she finds herself on the run for a murder she did not commit. As her quiet life goes up in sparks, she must face killer robots, menacing villains, and sarcastic computers in a race for survival. Nyssa has her hands full just trying to stay one step ahead of the police, but she still has time for adventure, humor, and even a taste of romance.
Slave by Laura Frances
Young adult dystopian. There is no sun. There is no moon. There is only gray—the smog belched from coal-fueled factories. The Workers silently shuffle to their assigned posts. The Outcasts watch from the alley walls. On every corner, a Watcher stands stone-faced, a rifle in hand. This is the only life that exists. Beyond the mountains is a dream. But dreams are foolish in a place like this. Hannah has spent nineteen years dodging Watchers and doing as she is told. But when she wakes to the valley exploding in revolution, Hannah is forced onto a dangerous path, where nothing is what she believed. 
Mercy's Prince by Katy Huth Jones
Young adult fantasy. As second son of the King of Levathia, seventeen-year-old Valerian desires the quiet life of a scholarly monk. But when he fails to save his older brother in battle, Valerian must instead become crown prince. While a traitorous knight schemes against him, Valerian meets Mercy, a pacifist Healer with whom he can speak mind-to-mind like the great dragons. Their bond emboldens Valerian to seek out the legendary dragons and ask for their help against the monsters who killed his brother.
The Beast of Talesend by Kyle Robert Shultz
Mix of urban fantasy/detective/fairytale/steampunk. Private eye Nathaniel Beasley lives in a world where fairy tales ended a long time ago – where zeppelins now soar the skies instead of dragons, and where the first automobiles have taken the place of flying carpets. He's made a name for himself across the Afterlands by debunking fake magicians and exposing fraudulent monsters. This is the modern age, after all. Magic and monsters are long gone. At least, that's what Nathaniel believes. Until he gets magically transformed into a monster.
Let me know in the comments what your favourite read of the year was!